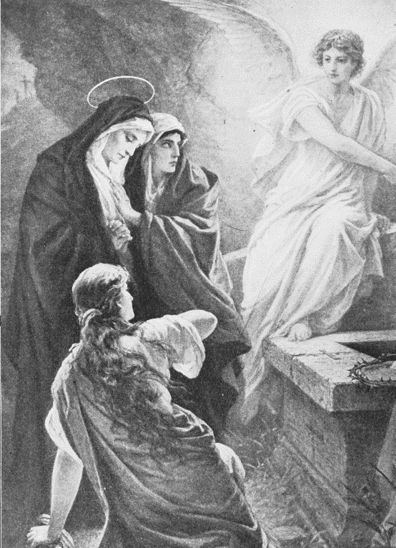 And entering into the sepulchre, they saw a young man sitting on the right side, clothed in a long white garment, and they were afraid. And he said to them, Be not afraid. You seek Jesus of Nazareth, who was crucified.
HE IS RISEN!
With the glorious resurrection God forgives our capacity for evil by undoing an ironically human evil act. God returns to human life in the person of Christ after ordinary people like you and me had killed him for heresy.
Now the Spirit of the Risen Christ surrounds you, sustains you, invites you to seek him, and promises to live in you and to lead you to new life even after you swoon in death.
Close your eyes and imagine how it would have changed your life if you had witnessed the Resurrection...
Imagine letting some of that change start happening now. Hope is more than an emotion. It is a way of living, and, when the time comes, a way of dying, with grace and joy and strength.
...the Body of Christ, given for you...
Bread and wine are the symbols of sustenance. By ingesting these elements of the Eucharist, or Holy Communion, we acknowledge that we do not "live by bread alone, but by every word which proceeds from the mouth of God." With this sacrament, we do more than accept and confess our need for God's Grace, we invite God's Grace to enter into us, and renew us in strength for God's service, and to bear the natural trials of this world, and of our natural human societies.
Go in Peace. Serve the Lord.